Sign up for our Newsletter!
Immigration Greater Moncton Newsletter
Read our past newsletters here:
Events
Greater Moncton Immigration Strategy 2019-2024
February 28 8:00AM-April 9 4:00AM
Online
The #immigrationGM2024 Strategy
The cities of Moncton and Dieppe, the Town of Riverview and the Greater Moncton Local Immigration Partnership have engaged a consulting team to help develop a new immigration strategy for the 2019 to 2024 timeframe. This consulting team is made up of three New Brunswick firms: Jupia Consultants Inc., Diversis Inc., and Viminio Recherche et Analyse Inc.
Over the next few months, the consulting team will be interviewing business and community leaders, ethno-cultural associations, educational institutions and other organizations involved in the attraction and retention of immigrants in our community. A number of theme-based consultations will be hosted, and presentations offered to community groups across the region. Residents can also provide input into the development of the new Greater Moncton Immigration Strategy by registering here!
Learn More
MAGMA Professional Mentorship Program
March 31 9:00AM-April 30 12:00PM
MAGMA
MAGMA Professional Mentorship Program is currently looking for mentors to professional newcomers across various industries, including, but not limited to: I.T., Engineering, Manufacturing (Supply Chain, Logistics, Procurement), Accounting, Finance, B2B Business Development, etc.
Do you have what it takes to be a great mentor? Do you know someone who does?
NOMINATE A MENTOR TODAY!
Simply click on the link below for more info or email us at mentorship@magma-amgm.org
Learn More
Greater Moncton Chamber of Commerce Workforce Expo
April 11 2:30PM-6:30PM
CCNB
Job Fair- over 50 employers attending.
Register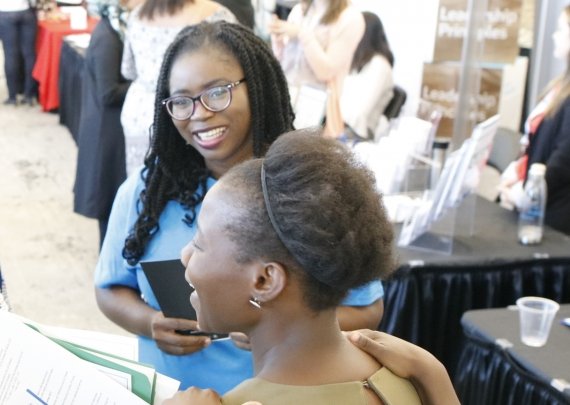 Immigration Strategy
The City of Moncton's Immigration Strategy, outlined in the report "Becoming an Inclusive Community."
LEARN MORE
We Want Your Feedback!
Please take the time to participate in our poll. We gather information which we use to address both the effective and the challenging parts of the immigration process.
What was the biggest challenge when immigrating to Greater Moncton?
Have you been able to find affordable housing?

Grateful For Guidance to Open New Business
"Since arriving from France, I have been busy getting ready to open my new online decoration business, IMPERTINENT.CA and I am really pleased and touched by the support of both local government and agency services among others, and it kept me moving in the right direction. I am looking forward to staying and working in my new city."
Clotilde Heibing