Sign up for our Newsletter!
Immigration Greater Moncton Newsletter
Read our past newsletters here:
Events
International Student Retention Program (ISRP)
January 14 6:00PM-March 14 9:00PM
Université de Moncton
It's not too late to register to be part of the next ISRP's cohort beginning in January 2019. For more information, please contact Bénédicte N'Dri at coordination.ei@cafi-nb.org or call (506) 382-7494 ext. 8.
Learn More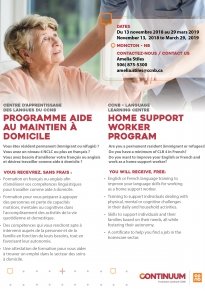 HOME SUPPORT WORKER PROGRAM
November 13 9:00AM-March 19 4:00PM
Moncton
CCNB – LANGUAGE LEARNING CENTRE HOME SUPPORT WORKER PROGRAM
You will receive, free:
• English or French language training to improve your language skills for working as a home support worker.
• Training to support individuals dealing with physical, mental or cognitive challenges in their daily and household activities.
• Skills to support individuals and their families based on their needs, all while fostering their autonomy
• A certificate to help you nd a job in the homecare sector.
Register
Language mentoring based on the working environment
November 26 9:00AM-January 18 4:00PM
Moncton
Are you an immigrant, permanent resident or refugee?
You want to improve your English or French language skills related to your job? This training will help you to:
• use an appropriate vocabulary related to your field of employment
• acquire language skills to communication in situations of everyday life
• improve your oral communication and written skills in a professional context
Ongoing registration!
Follow part-time training tailored to your need and according to your schedule. 2 hours per week for 10 weeks.
Register
Economic Integration Training 101
December 7 9:00AM-4:00PM
HIVE - la Ruche 1273 Main St #250, Moncton, NB E1C 0P4
Want to find out about economic opportunities available in New Brunswick? You are underemployed, looking for a job or thinking about entrepreneurship? Sign up for the Talent Plus™ program and optimize your economic success.
More informations in our website sur www.TalentNB.ca
Register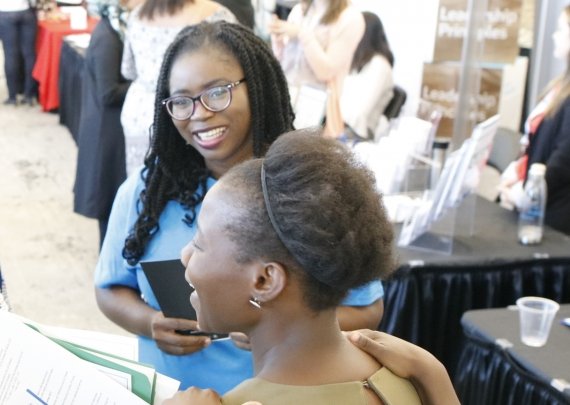 Immigration Strategy
The City of Moncton's Immigration Strategy, outlined in the report "Becoming an Inclusive Community."
LEARN MORE
We Want Your Feedback!
Please take the time to participate in our poll. We gather information which we use to address both the effective and the challenging parts of the immigration process.
What was the biggest challenge when immigrating to Greater Moncton?
Have you been able to find affordable housing?

Grateful For Guidance to Open New Business
"Since arriving from France, I have been busy getting ready to open my new online decoration business, IMPERTINENT.CA and I am really pleased and touched by the support of both local government and agency services among others, and it kept me moving in the right direction. I am looking forward to staying and working in my new city."
Clotilde Heibing